Welcome
In Holy Cross Girls' we offer a child centred education. Every child is encouraged to attain her potential, academically, physically, emotionally and spiritually. Our dedicated staff deliver a broad, balanced curriculum using a variety of teaching styles to suit the individual needs of the children.
We take our task very seriously and assure you that we encourage the same high standard from your child as you do yourself. With your help we want your daughter to succeed in her school work and grow up to become a happy, healthy, moral, responsible and confident young person.
Central to our ethos is our Catholic identity. We have strong links to our parish and have dedicated priests to help prepare the children for the sacraments.
We are an all inclusive school and welcome children from other faiths and cultures.
Holy Cross Girls' welcomes and expects the whole hearted support and involvement of parents. With their co-operation and with the professional commitment of the teachers our children are encouraged to reach the highest possible standard and be the very best that they can be.
We are proud of the "Outstanding" grade awarded to the school at our ETI inspection March 2015.
We would be delighted to have the opportunity to show prospective parents around our school, where the atmosphere and variety of activities can be experienced first hand.
Mrs Kathy Owens
B.Sc, PQH
Catholic Ethos in Holy Cross Girls'
Latest Gallery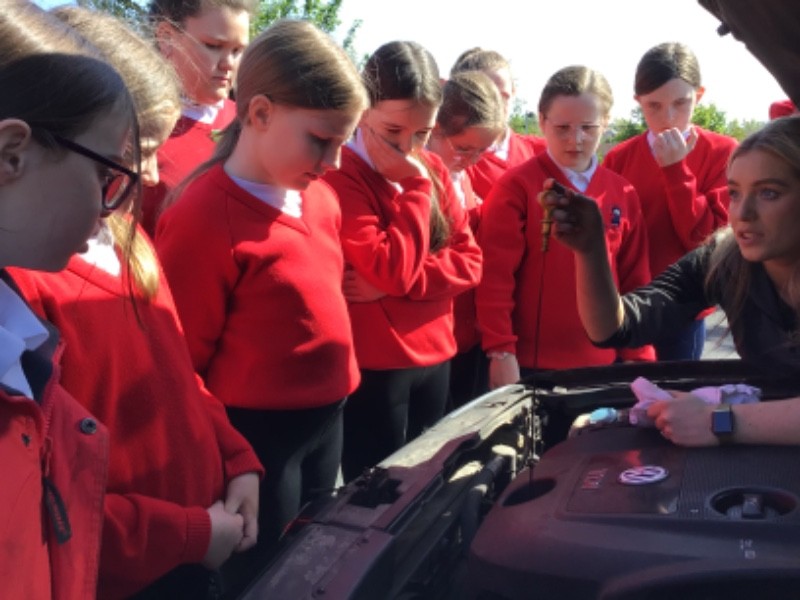 Christmas Carol Competition
Upcoming Events...
Tuesday, 6th June 2023
Transfer After School
Wednesday, 7th June 2023
P7 Musicians @ News Arts Space Belfast (performing with Glengormley School of Traditional Music )
Thursday, 8th June 2023
Breathe (P7 Transition Programme)
Friday, 9th June 2023
P7 TAMHI Workshop
Saturday, 10th June 2023
Feis Bhéal Feirste
Tuesday, 13th June 2023
P1 Music Morning
Breathe (P7 Transition Programme)
Wednesday, 14th June 2023
P6 Dreamspace Workshop (Online)
Friday, 16th June 2023
Sports Day
Monday, 19th June 2023
P7 Leavers' Trip
Tuesday, 20th June 2023
P7 Leavers' Trip
P6 TAMHI Shared Education Session (@Wheatfield Primary School )
Wednesday, 21st June 2023
Leavers' Mass
Thursday, 22nd June 2023
P6 TAMHI Shared Education Session (@HCGS)
Tuesday, 27th June 2023
P6 TAMHI Shared Education Trip
Friday, 30th June 2023
School closes 12noon (Buses available/ no dinners)
Holy Cross Girls' School, Ardoyne Road, Belfast, County Antrim BT14 7HZ | Phone: 028 9039 1771

WEBSITE BY: SCHOOLWEBDESIGN.NET | Login